Below is a list of the top 100 most congested roadways in Texas using data from 2021. The data source here is the TxDOT. The Texas
Legislature mandates that the Texas Department of Transportation produce this report each year. While heavy traffic congestion is often a by-product of economic growth (which is why Austin traffic will continue to get worse in the near future), for many Texans, attempting to drive from one location to another is a major problem, especially when it's on a highly congested stretch of road during peak traffic times.
The table below measures congestion by the number of extra hours of travel time experienced by drivers on each section of road analyzed. The data changes from year to year, and different things impact the data
Busiest Roadways in Dallas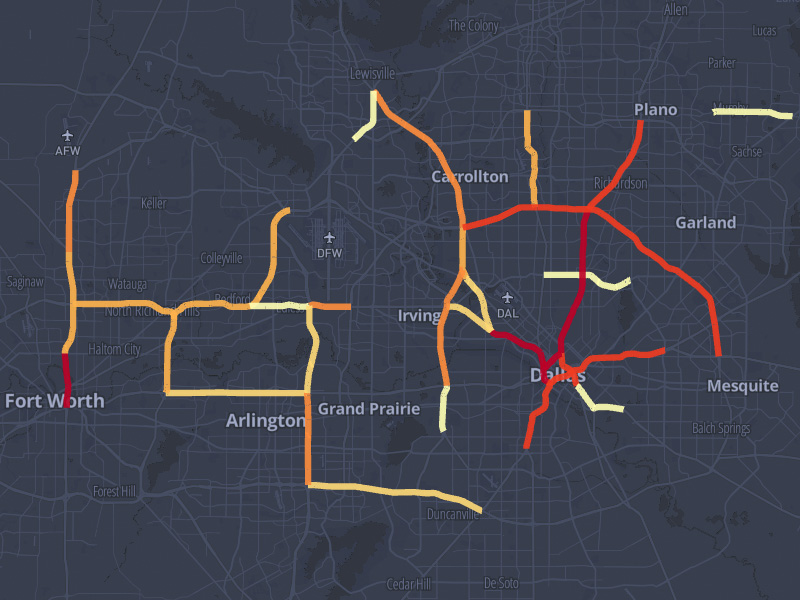 Dallas has many roadways in the top 100 list. The worst in Dallas County is Woodall Rogers Freeway / SS 366, from US 75 to N. Beckley Ave. This is a 1.5 mile stretch of highway where the annual delay per mile (person-hours) is 623,532!
Busiest Roadways in Houston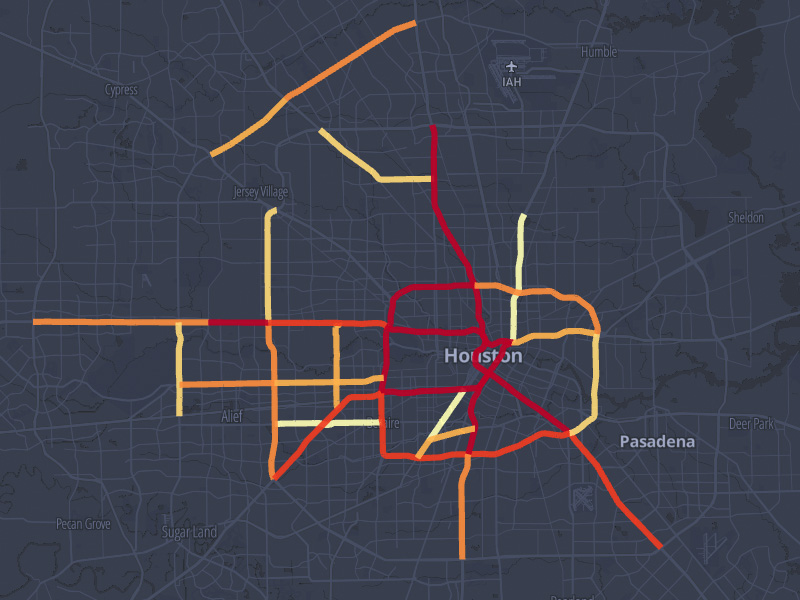 Houston, and Harris County in particular, has four of the top ten of the most congested roadways in the state of Texas. W Loop Freeway and IH 610 (from Katy Freeway/IH 10/ US 90 to Southwest Freeway / US 59 / IH 69 tops the list with 919,427 annual delay per mile!.
Busiest Roadways in San Antonio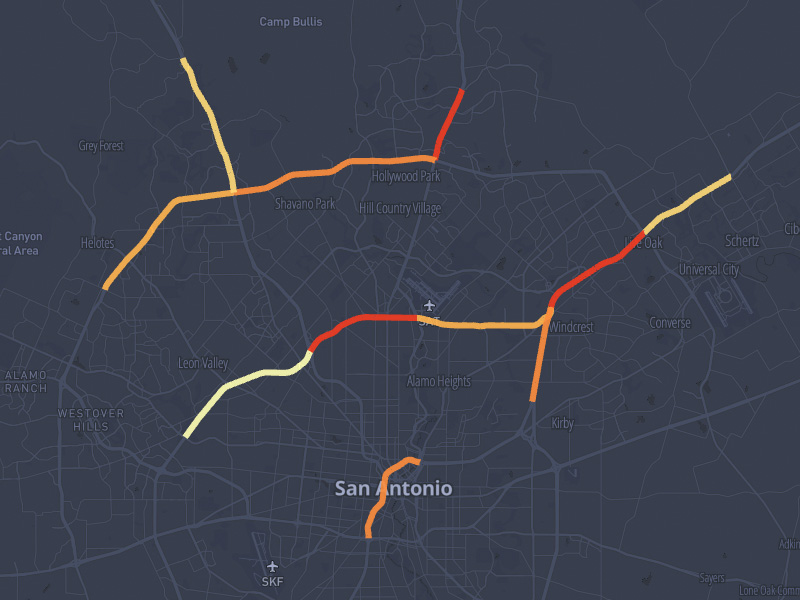 San Antonio has a cluster of highly congested roadways, as you can see above. Charles West Anderson Loop & SL 1604 N ranks #35 with an annual delay per mile average of 145,605.
Busiest Roadways in Austin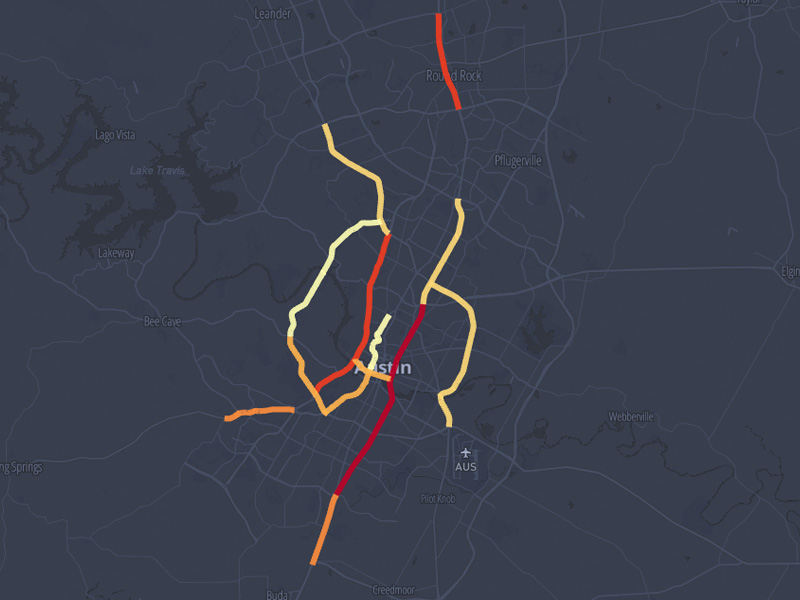 The IH 35 from the US 290 N / SS 69 to Ben White Blvd / SH 71 is a 7.85 mile segment that is the 2nd worst in the entire state of Texas, with an annual delay per mile here of 639,389.
Top 100 List
| | | | |
| --- | --- | --- | --- |
| 2021 Rank | County | Road Name | Annual Delay per Mile (person-hours) |
| 1 | Harris | W Loop Fwy / IH 610 | 919,427 |
| 2 | Travis | IH 35 | 639,389 |
| 3 | Harris | Southwest Fwy / IH 69 / US 59 | 624,373 |
| 4 | Dallas | Woodall Rodgers Fwy / SS 366 | 623,532 |
| 5 | Harris | Eastex Fwy / IH 69 / US 59 | 376,452 |
| 6 | Harris | Gulf Fwy / IH 45 | 375,413 |
| 7 | Dallas | US 75 | 370,025 |
| 8 | Dallas | Stemmons Fwy / IH 35E / US 77 | 365,539 |
| 9 | Tarrant | North Fwy / IH 35W / US 287 | 345,097 |
| 10 | Dallas | Lyndon B. Johnson Fwy / IH 635 | 341,008 |
| 11 | Harris | North Fwy / IH 45 | 304,230 |
| 12 | Dallas | IH 345 / US 75 / IH 45 | 289,083 |
| 13 | Dallas | E R. L. Thornton Fwy / IH 30 / US 67 | 287,514 |
| 14 | Harris | N Loop W Fwy / IH 610 | 279,982 |
| 15 | Dallas | Lyndon B. Johnson Fwy / IH 635 | 271,340 |
| 16 | Harris | Katy Fwy / IH 10 / US 90 | 249,965 |
| 17 | Harris | South Fwy / SH 288 | 237,844 |
| 18 | Harris | Southwest Fwy / IH 69 / US 59 | 227,563 |
| 19 | Cameron | Boca Chica Blvd / SH 48 | 211,602 |
| 20 | Harris | Katy Fwy / IH 10 / US 90 | 207,255 |
| 21 | Harris | IH 10 / US 90 | 204,117 |
| 22 | Travis | IH 35 | 198,668 |
| 23 | Dallas | Lyndon B. Johnson Fwy / IH 635 | 197,740 |
| 24 | Tarrant | IH 35W | 195,975 |
| 25 | Harris | North Fwy / IH 45 | 192,237 |
| 26 | Dallas | US 75 | 176,692 |
| 27 | Harris | Gulf Fwy / IH 45 | 176,247 |
| 28 | Webb | Mann Rd / Springfield Ave | 175,300 |
| 29 | Harris | Katy Fwy / IH 10 / US 90 | 173,696 |
| 30 | Harris | S Loop E Fwy / IH 610 | 171,329 |
| 31 | Williamson | IH 35 | 162,152 |
| 32 | Dallas | Airport Fwy / SH 183 | 161,767 |
| 33 | Cameron | International Blvd / SH 4 | 155,515 |
| 34 | Tarrant | North Fwy / IH 35W / US 287 | 150,240 |
| 35 | Bexar | Charles West Anderson Loop / SL 1604 N | 145,605 |
| 36 | Travis | US 290 / SH 71 | 144,399 |
| 37 | Webb | Mines Rd / FM 1472 | 133,925 |
| 38 | Bexar | N PanAm Expy / IH 35 | 133,756 |
| 39 | Denton | BS 121H | 130,388 |
| 40 | Dallas | Stemmons Fwy / IH 35E / US 77 | 128,649 |
| 41 | Bexar | Charles West Anderson Loop / SL 1604 NW | 126,765 |
| 42 | Denton | IH 35E / US 77 | 124,522 |
| 43 | Dallas | Walton Walker Blvd / SL 12 W | 124,157 |
| 44 | Collin | University Dr / US 380 | 122,791 |
| 45 | Harris | N Loop E Fwy / IH 610 | 114,871 |
| 46 | Harris | W Loop S Fwy / IH 610 | 112,207 |
| 47 | Smith | S Broadway Ave / US 69 | 111,249 |
| 48 | Harris | South Fwy / SH 288 | 105,226 |
| 49 | Bexar | Connally Loop N / IH 410 | 104,676 |
| 50 | Tarrant | SH 360 | 101,917 |
| 51 | Harris | SH 146 | 101,592 |
| 52 | Bexar | McAllister Fwy / US 281 | 101,379 |
| 53 | Harris | Katy Fwy / IH 10 / US 90 | 100,820 |
| 54 | Harris | Sam Houston Tollway W / SL 8 | 100,005 |
| 55 | Ector | E 42nd St / SH 191 | 97,077 |
| 56 | Bexar | PanAm Expy / IH 35 / IH 10 | 96,888 |
| 57 | Harris | Main St | 96,593 |
| 58 | Harris | Brazos St | 94,227 |
| 59 | Travis | IH 35 | 94,180 |
| 60 | Webb | Lloyd Bentsen Hwy / BU 59Z | 93,639 |
| 61 | Bexar | N PanAm Expy / IH 35 | 92,796 |
| 62 | Harris | East Fwy / IH 10 / US 90 | 87,942 |
| 63 | Harris | Grand Pkwy / SH 99 | 87,928 |
| 64 | Cameron | E 14th St / SH 48 | 87,106 |
| 65 | Dallas | IH 35E / US 77 / US 67 | 86,937 |
| 66 | Tarrant | SH 360 | 86,891 |
| 67 | Dallas | IH 20 | 85,003 |
| 68 | Bexar | Connally Loop N / IH 410 | 84,604 |
| 69 | Tarrant | Airport Fwy / SH 121 | 84,140 |
| 70 | Harris | Airline Dr | 83,441 |
| 71 | Harris | W Bellfort St | 82,807 |
| 72 | Johnson | Wilshire Blvd / SH 174 | 82,433 |
| 73 | El | Airway Blvd | 82,316 |
| 74 | Cameron | IH 69E / US 83 / US 77 | 82,001 |
| 75 | Webb | Del Mar Blvd | 81,522 |
| 76 | Tarrant | IH 35W | 81,507 |
| 77 | Webb | Mines Rd / FM 1472 | 81,154 |
| 78 | Webb | McPherson Rd | 81,023 |
| 79 | Harris | E Loop Fwy / IH 610 | 80,176 |
| 80 | Harris | Fountain View Dr / Renwick Dr | 79,745 |
| 81 | Ector | Andrews Hwy / US 385 | 78,143 |
| 82 | Montgomery | Northpark Dr | 77,068 |
| 83 | Tarrant | Airport Fwy / SH 183 | 76,592 |
| 84 | Harris | Weslayan St / Stella Link Rd | 75,324 |
| 85 | Tarrant | Jacksboro Hwy / SH 199 | 75,107 |
| 86 | Ector | E University Blvd | 74,855 |
| 87 | Travis | IH 35 | 74,661 |
| 88 | Travis | MoPac Expy / SL 1 | 74,431 |
| 89 | Dallas | Griffin St / N Pearl St | 73,694 |
| 90 | Tarrant | N Loop 820 / Jim Wright Fwy / IH 820 | 71,499 |
| 91 | Dallas | IH 20 | 71,483 |
| 92 | Tarrant | E Loop 820 / IH 820 | 71,193 |
| 93 | Tarrant | Tom Landry Fwy / IH 30 | 70,724 |
| 94 | Dallas | US 175 | 70,137 |
| 95 | Dallas | S Walton Walker Blvd / SL 12 W | 69,980 |
| 96 | Harris | North Fwy / IH 45 | 69,776 |
| 97 | Montgomery | North Fwy / IH 45 | 69,129 |
| 98 | Cameron | E Price Rd | 68,780 |
| 99 | Cameron | Paredes Line Rd / FM 1847 | 67,737 |
| 100 | Harris | Tomball Pkwy / SH 249 | 67,706 |